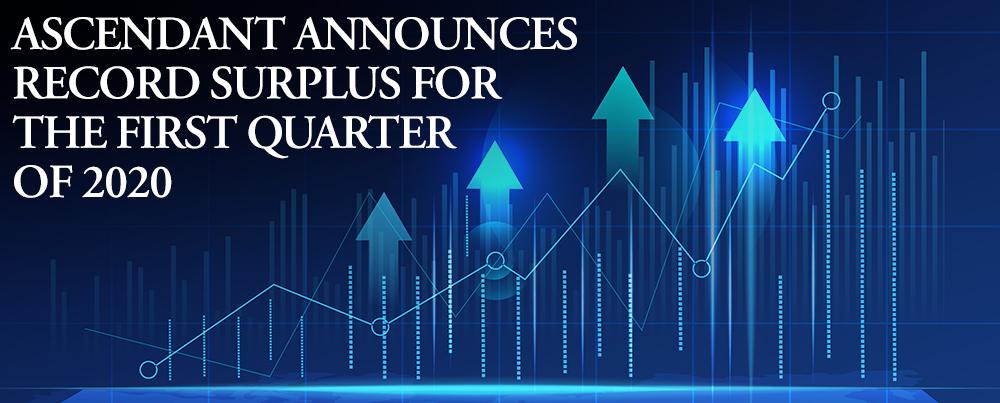 2020 1st Quarter Financial Results
Ascendant's March 31, 2020 quarterly financial statement, as filed with the Florida Office of Insurance Regulation, contained the following results::
Policyholders' Surplus of $14.3 million, an increase of nearly 7% from year-end 2019; another record high for Ascendant.
Direct Premium Written of $25.4 million, and nearly $95 million over the last 12 months.
Continued growth in Workers' Compensation, which grew by nearly $1.4 million (+14.1%) over the quarter ended March 31, 2019.
Net underwriting gain of nearly $600,000, an increase of $1.0 million over the quarter ended March 31, 2019.
Net Income before taxes of $1.5 million vs. $0.3 million in the quarter ended March 31, 2020.
Cash and invested assets of $47.5 million, an increase of $10.5 million (+28.0%) from $37.1 million at year-end 2019.
Total admitted assets of $96.8 million, an increase of $10.4 million (+12.0%) from $86.4 million at year-end 2019.
During the quarter, Ascendant further enhanced its strong financial position by increasing its reinsurance program with General Reinsurance Corporation ("Gen Re"). Gen Re, Ascendant's exclusive reinsurance partner, reported $45.9 Billion in total assets, $15.4 Billion in shareholders' equity as of December 31, 2019, and currently holds financial strength ratings of "A++" (Superior) by A.M. Best, "Aa1" by Moody's and "AA+" by Standard & Poor's. The combination of Ascendant's historic policyholders' surplus coupled with increased reinsurance protection from one of the world's largest and most well-capitalized reinsurers, adds substantial additional protection to Ascendant's policyholders, especially during these uncertain times. Ascendant stands stronger than ever and remains committed to the needs of small and medium sized-businesses throughout Florida. With nearly 50% of its admitted assets in Cash and invested assets, Ascendant's financial discipline has prepared it to withstand these difficult times. We understand the challenges that our policyholders are facing and have offered various forms of relief, including flexible payment options. We have updated incentive programs and promotions to accelerate commission payments to our producing agents, many of which are family businesses, just like ours. We are thankful for the trust that our agents and policyholders have continued to place with us over the past 10+ years, and we look forward to being the insurer of choice for small and medium sized businesses throughout the state of Florida.